May 2008 - Nov 2011. As technology management consult at Booz Allen Hamilton, I support the implementation of advanced transit management and wireless communications systems in the San Francisco Bay Area. Building such system has been my professional occupation for 15 plus years. Please visit my LinkedIn profile for more information and, of course, feel free to send a connection request if interested.
In addition to building these systems, I make time for a side project, or two.

To the right, an artistic reflection of the kind of equipment my clients used to operate. In this day and age, digital and Voice over IP (VoIP) based systems are the norm. This sculpture was part of an exhibition at 101 California Street in San Francisco, at the residence of Booz Allen's San Francisco office.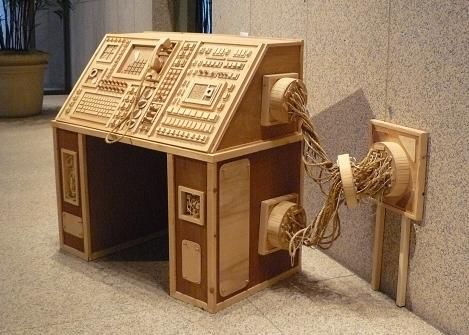 Michael Rea: 'who knew starman would answer back,' 2005 - wood, burlap, rope